Braces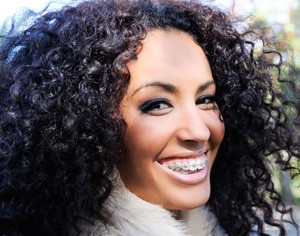 Nothing can make you feel more insecure about your smile than crooked or misaligned teeth. The outstanding team at 14th Floor Dental can help create your perfect smile with traditional braces. Braces can improve not only your smile, but also your overall oral health.
Why Braces?
When your teeth are properly aligned, they are easier to clean, which makes them more resistant to tooth decay, tooth loss and disease.

Braces can help relieve tooth or jaw discomfort which can be the result of uneven placement and wear on the teeth.

Braces will not only properly straighten your teeth, but also create the proper bite for your teeth to comfortably rest in your mouth. Improper bites can be the cause of not only speech difficulties but also jaw and neck discomfort. Our team is just as concerned with your smile as they are with your bite!

Having a straight smile will make you feel more confident in yourself and during your interactions with others.
How Long Will I Have To Wear Them?
Every treatment plan is different and individualized to meet your personal needs. There are different factors that will determine the time you will spend wearing braces. Some of these factors are your current age, the overall health of your gums and how severe your needs may be. An average time for many treatment plans is 18 to 24 months, but this can be longer or shorter depending on the above listed factors.
What's Next?
Call today for a free consultation. The team at 14th Floor Dental will complete a thorough exam and will be able to discuss your treatment options. Our office offers the highest quality care with the most up-to-date technological advances to make your smile perfect!